#06: 4 Steps to Test Message/Market Fit
January 22, 2023
Product positioning has changed.
The old way: crossing your fingers and hoping your messaging lands at launch.
The new way: testing your way to message/market fit before you even ship the product.
As a PMM, we've all been there - holding our breath on launch day waiting to see if our customers resonate with our campaign.
Does the product name make sense? Did we highlight the right value first? Does it feel differentiated and new?
Usually, launch conversations internally revolve around the popular concept of product/market fit. But, there's a new "fit" in town, and if you're not already optimizing for it as a PMM, you need to start immediately.
Message/Market Fit
It's almost impossible to work in growth or product without hearing of Reforge's Four Fits model.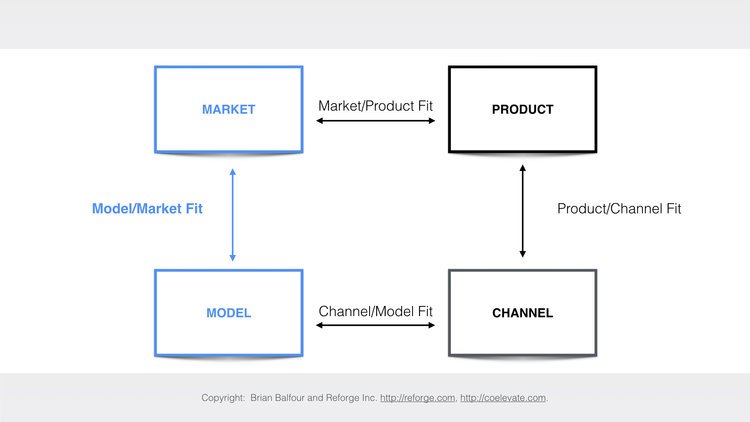 Introduced by Brian Balfour, ex-VP of growth at HubSpot, the model provides an actionable framework to help companies grow to $100M+ businesses. He claims that in addition to the highly sought after product/market fit, there are three other highly desired fits to optimize for: product/channel fit, channel/model fit and model/market fit.
While I've used the Four Fits model a handful of times myself to drive growth, I believe it's missing a critical fifth fit, and one that PMMs can control the most: message/market fit.
Message/market fit measures how well your messaging and positioning resonates with your specific market segment. This ensures that you're communicating the right value, with the right language, to the right customer.
When you get message/market fit right, you'll see:
Improved campaign results (open rates, click through rates)
Happier customers who feel seen and understood
Increased product adoption
A rise in word of mouth (customers love to share good messaging!)
When I talk to most PMM teams, optimizing messaging is something that comes post-launch, not pre-launch. Once their go-to-market is live, they analyze the results, set a hypothesis, and start testing.
While it's great to evolve your strategy post-launch, it's too late to start message testing.
Here's the method I use to get to message/market fit ahead of launch.
4 Steps to Pre-Launch Message Testing
Testing your way to message/market fit doesn't have to be complicated or time consuming. In fact, it should be baked into your regular go-to-market planning, and can even help provide inputs back to the product team as well.
Step 1: Listen to Voice of Customer
Gather the inputs you have available that capture the voice of customer for this particular product. Make sure you're filtering by the specific market segment you want to focus on (this can't be generic). This may include both qualitative and quantitative research like research studies, support tickets and customer interview notes. In this step, you want to identify the specific language your customers are using to describe both the pain they are feeling today, as well as the value they are looking for with your proposed solution.
Step 2: Write your messaging framework
Use the voice of customer inputs to build a messaging framework that captures the value and benefits of your product. Make sure you're including the specific words you heard from customers, and aren't trying to get too fancy or business-like with your own copywriting. At this step, I usually like to write two value propositions that each highlight a different angle on the core value. This will be the heart of what I test in step 3 in order to see if the market prefers a particular spin on my messaging.
Step 3: Put your message in front of customers
This is the step most folks forget - they don't circle back with our customers to see if what they've written is effective. Most will just send to the creative team and hope for the best. There are several different ways to get your messaging in front of customers. If you have an alpha group, you can do a message test with those participants by simply showing them the messaging, and asking for feedback. But, my favorite way to test message/market fit is with a tool called Wynter.
Wynter is a message testing platform that allows me to get full page message tests in front of a panel comprised of my ideal customer profile. I love this approach because the panelists aren't actually customers, so they aren't biased by what they know about the product today. I get in-depth feedback about what works, what doesn't work, and where I need to iterate. And, if I'm testing two value props against each other, I quickly learn which is most preferred. I've used Wynter with my PMM teams at Unbounce and Kajabi to gain confidence in my messaging for launches both small and large. (Note: Wynter hasn't sponsored this newsletter - I'm just a fan!)
Step 4: Polish for launch
Take the learnings from your message tests and update your messaging framework accordingly. If, during testing, you've learnt something that could impact product development, definitely share with the PM team. If you message test early enough, it won't be too late to make small product adjustments to ensure you nail both message/market fit and product/market fit as well. Then, take the preferred value proposition, and turn it into the leading message for the campaign.
Applying this simple, four-step testing process will give you an advantage over most of your competitors who aren't testing pre-launch, and set you up for a successful launch. But, the work isn't done yet. You'll still want to keep testing post-launch to ensure you're continuing to refine that message/market fit over time.
I'm curious - how do you message test today?
See you here next Sunday ⏰
- Tamara